Meet The Doctors (DVM)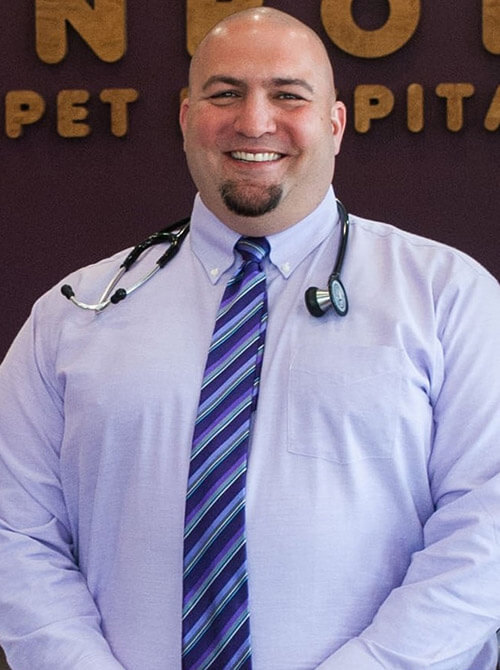 Owner, Doctor of Veterinary Medicine
Dr. Jason Tarabrella
Dr. Tarabrella is a graduate of The Ohio State University College of Veterinary Medicine and has been practicing veterinary medicine since 1999. He has a special interest in veterinary dental health and orthopedic surgeries. His favorite part of veterinary medicine is the bond he has formed with many of his long-standing clients and their pets. Additionally, Dr. Tarabrella loves helping homeless pets get healthy for their forever homes. He has been working closely with rescue groups such as Joseph's Legacy, PAWS, H.A.R.T and many others since beginning practice in this area in 2005.

While he would not qualify himself as solely a dog or cat person, Dr. Tarabrella feels he has a special understanding of the feline psyche. While some might shy away from the difficult feline patient, he embraces the quirks and eccentricities that make us love them. In addition to caring for canine and feline patients, Dr. Tarabrella enjoys working with exotic pets, such as small mammals (rabbits, guinea pigs and hamsters) and reptiles.

Dr. Tarabrella resides in Middletown with his wonderful wife and five spirited children. His cherished pets include 4 dogs, 3 cats, 2 potbellied pigs, well as a flock of chickens and ducks. Dr. Tarabrella enjoys spending time with his family and working outdoors on his tractor. His other interests include karate, football, and coaching his daughters in volleyball. Being from Pennsylvania, he is a true Steelers' fan. Even though they are a division rival, he also roots for the Bengals (when they are not playing the Steelers of course!). Finally, being a graduate of The Ohio State University, he naturally loves all things Ohio State. There is nothing better than Ohio State football in the fall! Go Bucks!

Since opening Monroe Family Pet Hospital in 2007, one of Dr. Tarabrella's goals has been to support the Monroe community through donations to local sports teams, local charities, Monroe local schools, and a multitude of community events. In 2017 Dr. Tarabrella was enormously proud to bring to Monroe its first state of the art 7500 sq ft free standing veterinary hospital. This building, The Lodge as some call it, allows us the necessary space and capability to serve the veterinary needs of Monroe and the surrounding area for years to come. Ultimately, his most important goal will always be for Monroe Family Pet Hospital to provide his clients and patients the time, expertise, and individual attention needed to be sure their concerns are properly addressed. It is important to him that this level of service happens each and every time a client walks through our doors.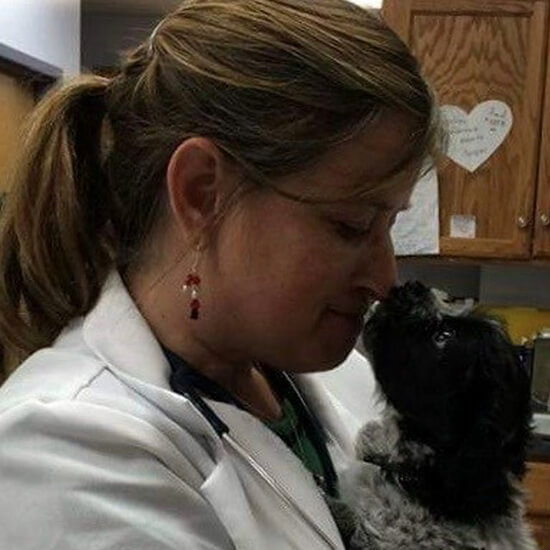 Doctor of Veterinary Medicine
Dr. Beth Osborne
Dr Beth Osborne graduated from The Ohio State University College of Veterinary Medicine in 1988 with an emphasis on the human-animal bond. She spent time with Pilot Dogs and the Capital Area Humane Society while in school and has worked with numerous humane shelters and rescue groups during her years of private practice. Dr. Osborne supports all Ohio sports teams, especially the Buckeyes, Reds and Browns. She is married with 2 children and shares her home with 2 dogs and a cat.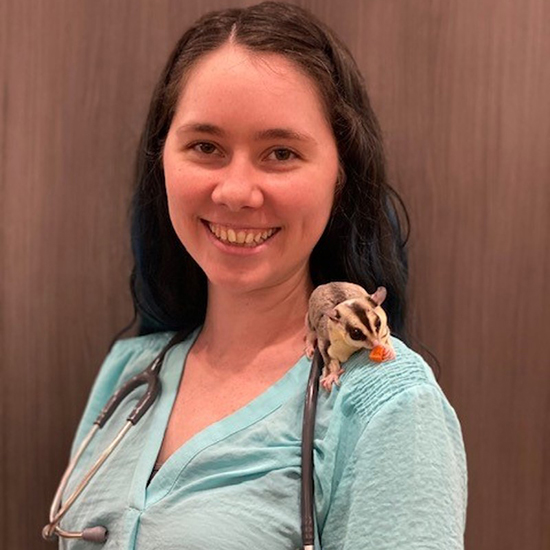 Doctor of Veterinary Medicine
Dr. Alyssa Reed
Alyssa received her professional training at the University of Tennessee College of Veterinary Medicine where she learned the valuable lesson to never get into an argument with a determined alpaca (she lost). She grew up in Coffee County, Tennessee, where she was surrounded by as many cats, dogs, and pocket pets as she could reasonably smuggle into her house. She also loved working with her local humane society to bottle-feed boxes full of orphan kittens, and assisting shelter pets continues to be very important to her.

Professionally, Alyssa holds a special place in her heart for pocket pets and for feisty senior patients. She loves partnering with pet parents to design a health plan tailored to the specific needs of each particular pet. After practicing medicine in her hometown, Alyssa fell in love with Cincinnati and moved here to be near quality ice cream. Now, Alyssa shares her home with two very bossy fur babies, Fox and Cobalt. On the weekends, you can find her doing what they love best-going on adventures with Fox or curling up on the couch with Cobie while watching the X-Files.
Doctor of Veterinary Medicine
Dr. Ann Impson
Dr. Ann Impson graduated from The Ohio State University College of Veterinary Medicine. With a love of the outdoors and wildlife and experience working at the Cincinnati Zoo, she originally focused on training to work with wildlife in school, but quickly became hooked on the challenge of clinical practice and the important role the veterinarian plays in supporting the human animal bond. After graduation, she worked in a range of practice settings including a dairy externship, practice at shelter and veterinary hospitals. Her professional interest became focused on internal medicine, surgery, dentistry and pain management.

Dr. Impson and her husband and children have fostered and adopted numerous animals through the years. She currently has a small Great Pyrenees from the Pyrenees rescue, a brilliant mixed breed dog from DREAMS for pets, two very ornery but lovable tripod cats (from work of course!), a savvy gaited trail horse, and a genuine sweetheart of a molly mule. In her free time-if there is any-she enjoys time with her family, live music of all kinds but especially the Blues, museums that make her think, kayaking, and camping (especially with her dogs along for the hikes.)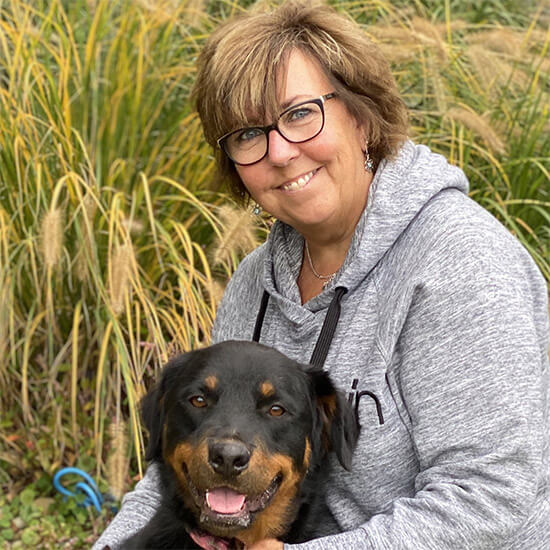 Practice Manager
Pamela Bradshaw
Pam joined MFPH in June 2015. She has been in the veterinary industry since 1989. She started as a receptionist then a vet technician before deciding to be in veterinary management. She has been active in animal rescue over the years, even volunteering at Best Friends, St Francis Sanctuary in Mississippi after Hurricane Katrina.

She is passionate about staff education, client education, preventive medicine and providing excellent customer service to our clients.

Pam lives with her husband, several cats, 2 dogs, a miniature donkey and a miniature Highland cow.
---
Meet The Vet Technicians (RVT)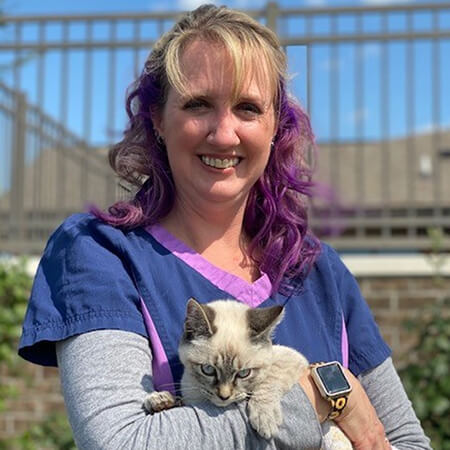 Registered Veterinary Technician
Dawn
Dawn joined MFPH in 2013. Dawn graduated from Columbus State in 2002. Dawn's specialties include Dentistry and Exotic Animal medicine. She has raised many orphan kittens for different rescues. She has also raised and released wildlife orphans such as rabbits, squirrels, racoons, and turtles to just name a few. Her hobbies include art and visiting the zoo as often as possible. Dawn lives in Middletown with her two dogs, several rescued cats, birds, rabbits and an iguana.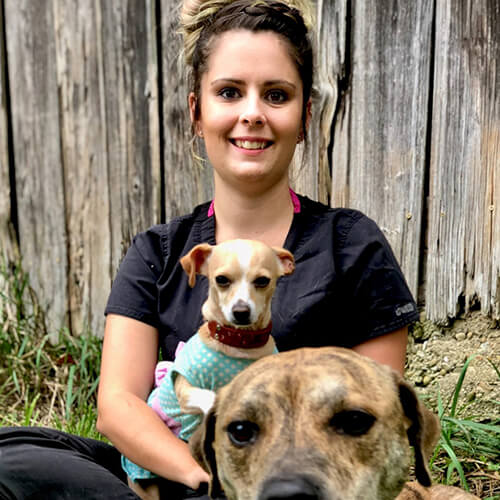 Registered Veterinary Technician
Jordin
Jordin joined MFPH in September 2020. She has been a Registered Veterinary Technician since 2017 and is currently working on getting her VTS (Veterinary Technician Specialist) in Dentistry. Jordin is also a Cosmetologist part of her workweek. She lives on a farm with her husband, two dogs, 2 cats, horses and chickens. Jordin loves kayaking, camping and hiking.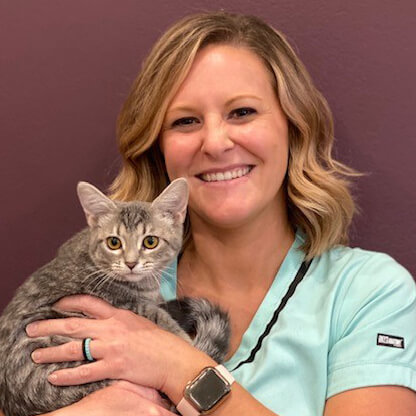 Veterinary Assistant
Emily
Emily Joined MFPH in June 2020. Emily has worked in the Vet industry for 7 years in three different states. She learned about heart worm disease while living in the south and learned a lot about Lyme disease in the north. Emily loves creating a stress free visit along with educating our clients for the best possible care for their pet. Emily and her husband have a woodworking business and love creating art. Her hobbies include cake decorating and being a health coach to help people reach their health goals. Emily is also an army veteran and coast guard veteran spouse. Emily's animals include 4 cats, two dogs, 30 chickens and guinea fowl.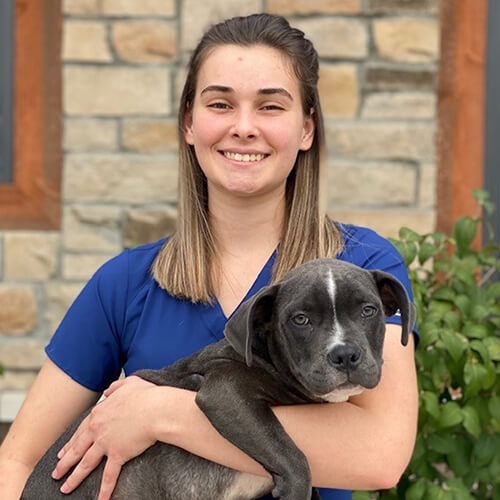 Veterinary Assistant
Faith
Faith joined MFPH in November of 2019. Faith graduated from Butler Tech's Animal Science Program in 2018. She worked in rescue for a year and then decided to go into veterinary medicine. Faith is currently doing online classes in Veterinary Technology. Faith loves spending time with her daughter, three dogs and a cat.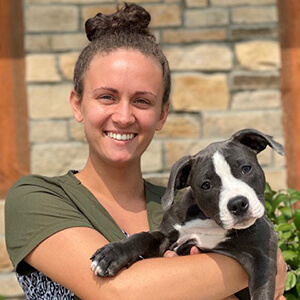 Veterinary Assistant
Kati
Kati joined MFPH in October 2019. Kati graduated from Butler Tech's Animal Science Program in 2013. Kati has always been interested in veterinary medicine and is currently taking online classes in Veterinary Technology. Kati enjoys spending time on her farm with her daughter and her four dogs.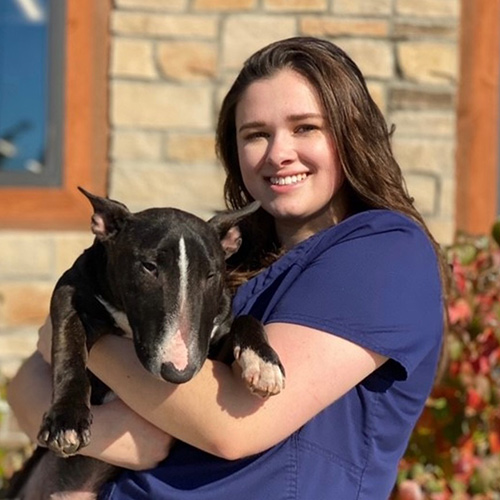 Veterinary Assistant
Morgan
Morgan joined MFPH in October 2020. She is working towards her associates degree in Veterinary Technology. Morgan has a special interest in dentistry and enjoys teaching clients about the importance of dental care. Morgan currently has two cats named Elliott and Jane and a guinea pig named PB. Thank you Morgan for joining the team!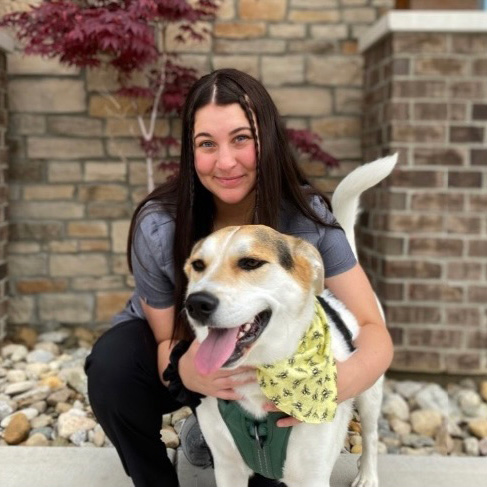 Veterinary Assistant
Renee
Renee joined MFPH in January 2022. Renee is currently working toward her degree as a RVT. Renee has an interest in animal rehabilitation and working with animals with special needs. She loves hiking, tennis and spending time with Ollie.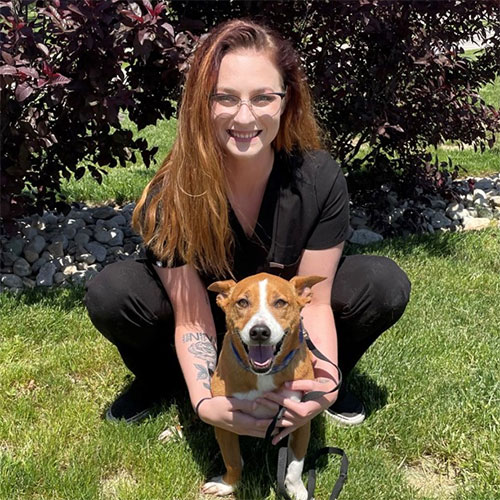 Veterinary Assistant
Paige
Paige joined MFPH in May 2021. She has worked in the vet industry for 11 years. First as a kennel attendant, customer service representative and then veterinary assistant. Paige will be graduating from Purdue's Veterinary Nursing program in the fall of 2022. She has a particular interest in anesthesia and analgesia. In her free time, she enjoys hiking, yoga and reading fantasy novels.
---
Meet The Customer Service Reps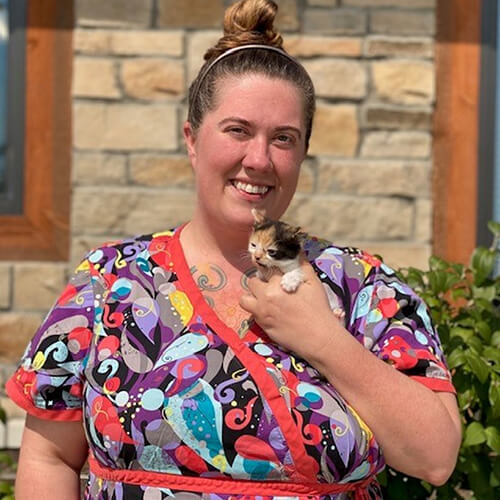 Customer Service Representative
Ashley
Ashley joined MFPH in July 2019. She has been in the veterinary industry since 2013 and has a deep love for animals. Ashley is the mother of twin girls and two furry felines. When she is not working, she enjoys spending time with her family and friends watching movies, discovering new music and reading.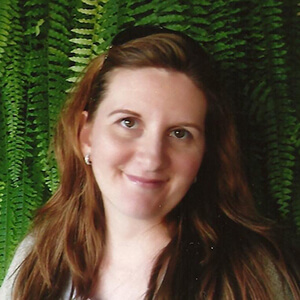 Customer Service Representative
Juli
Juli is our Lead Customer Service Associate with more than 25 years of experience in the veterinary profession. Julie joined MFPH in September 2012. She is very knowledgeable, a problem solver, and always happy to help everyone! She adores senior pets and has a particular fondness for small toy breed dogs. She enjoys gardening, visiting historical sites, and spending time on her family's farm.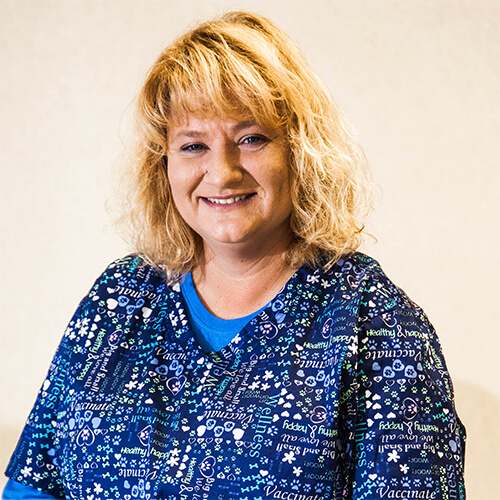 Customer Service Representative
Kelly
Kelly joined MFPH as a receptionist in October 2014. After living in Wisconsin for nearly 20 years, Kelly and her husband relocated to Ohio in 2012. In December of 2017, Kelly moved to Florida. We did not want to see her go, so she is now our remote phone operator. When you call to schedule an appointment, you will probably still get to talk with Kelly! In her spare time, Kelly enjoys cooking, traveling, and fostering cats for local recuses. Kelly resides in Florida with her husband Bryan, 6 cats and two dogs.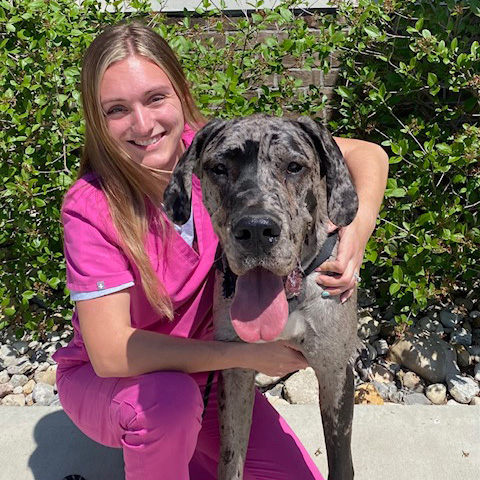 Customer Service Representative
Emily
Emily joined MFPH in October 2021. Emily loves spending time outdoors with her two children and 4 giant breed dogs! Emily has been in the veterinary industry for two years and is now taking online classes to become an RVT.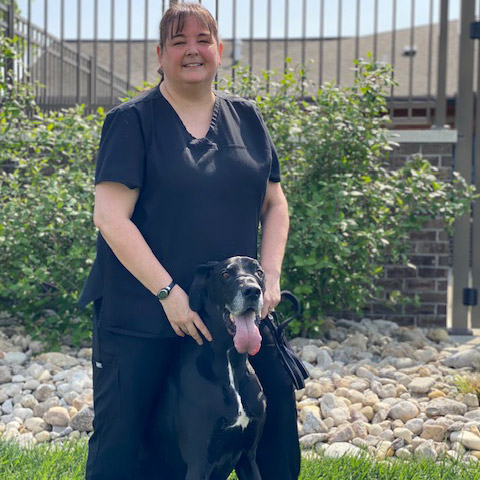 Customer Service Representative
Heather
Heather joined MFPH in November 2021. Heather has been in the veterinary industry since 2011. Heather stays busy with her two sons, two cats and two dogs. She loves cheering for the Bengals, and playing on Dart/Pool leagues.